By Jonathan Hamilton
In 1978, United Airlines spokesman George Niemer said that, "the airline carries as many passengers to and from Grand Junction each year as the entire population of Mesa County". This remarkable feat was the culmination of nearly a century of aviation development that was headed by brave pioneers in the industry. Aviators like Charles Walsh, Eddie Drapela, and Betty Clark, are some of the roots responsible for the growth of aviation here in the Grand Valley, which stands today as an important contributor to the local economy.
It all started on December 17, 1903, when the Wright Brothers invented their first airplane. At first, the aviation industry was one of entertainment and spectacle. In the 1910s and especially into the 1920s, many aviators started traveling across the country to demonstrate their skills with these new machines by performing at airshows called "Barnstorming". Charles Walsh was one of these barnstormers and began aviation in Grand Junction when he came to perform on August 12, 1912. Called "Aviation Day", the city closed down businesses and ran special trains and car services so a record 5000 people could attend. Walsh did three flights in his Curtiss machine where he did spirals, fast turns, and even dropped two oranges to demonstrate airplanes potential as a military weapon.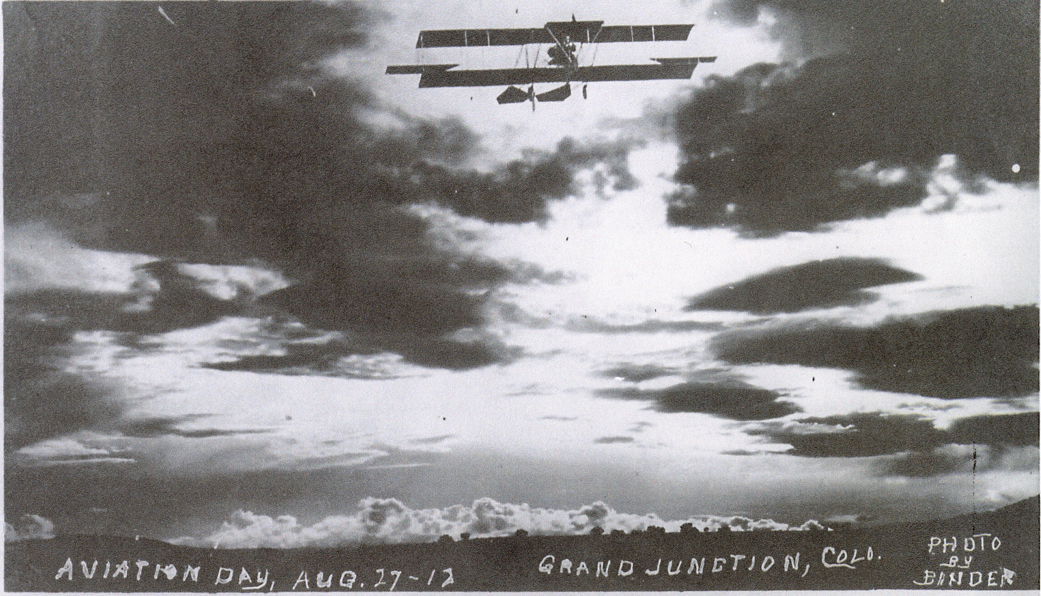 The trend continued in October, 1914 when Lincoln Beachy in his Curtiss biplane raced against Barney Oldenfield in his custom built racing automobile. The race was a part of a larger exhibition that reportedly brought in 6500 Grand Valley residents, closing down the city during the event. The race was close, but by thirty feet Oldenfield in his custom built race car had been victorious. While barnstorming and races were at the time simple entertainment spectacles, they did demonstrate the potential that aircraft had, and this potential would be realized by future generations.
Eddie Drapela took the next leap forward for aviation in 1937 when he started a flying school at Walker Field. A previous charter firm had been established by T.H. Sackett in 1930, but with only 10 students enrolled and not enough support from the Grand Junction community, the school was forced to close only two years later. Drapelas first few years were rough, he barely scraped by and had to sleep in his car parked in the hangar.
Business began to boom for Drapela in 1939 when the government contracted his flight school to train pilots in connection with a program at Mesa College. Unfortunately, on January 8, 1943 Drapela and his crew almost met total disaster when a fire started in the hangar, possibly by oil boiling over. The fire burned the hanger and all but one outdated World War One era plane. Rex Howell who worked with Drapela at the time thought that, "our program was completely dead at that point". Lucky for him and Drapela, that proved to be untrue as his school was able to obtain new planes and re-open for new trainees by the 15th.
Drapela would end up selling the training school to Jim Rigg Jr. in 1948 when business had dried up after the war. Two of Drapelas employees, Glen Mcfall and Flloyd Gregg, would start their own flying service, Valley Air Service, which they in turn sold to Clyde Davis, who later formed Monarch Aviation. Monarch Aviation would also in turn be sold to the Buescher family who would transform the company from a training and charter service to focus on aircraft sales and maintenance, being renamed West Star Aviation, a company still active in Grand Junction today. Drapela alone did not launch aviation in Grand Junction. However, Drapela did reinvigorate Grand Valley aviation in a time of a lull in the industry and was foundational for Grand Junction's future in aviation and the building of the Grand Junction Regional Airport.
Another Grand Valley aviator, Betty Clark, honoree of the Colorado Aviation Historical society in 1979, contributed to the Grand Valley civilian aviation industry. Born in Rifle, Clark started flying at just 11 years old in her father's Eagle Rock glider and went on to join the Civil Air Patrol. In 1943, she went on to graduate from the Women's Airforce Service Pilots (WASP) and served until December 1944. A few years later in 1950, Rifle airport owner, Cran Rader Jr, hired Clark to manage the Rifle airport and eventually Clark leased out a hangar where she ran both Mile Hi Aviation and Mile Hi Aerial Spray with her partner Pat Sullivan.
Clark's work varied with her doing crop dusting, charter flights, sightseeing, search and rescue, ambulance services, and much more. Clark and Sullivan's hard work and skill created a successful business that added more pilots and mechanics and later, a helicopter and another hanger. In her later career, Clark sought to inspire future boys and girls to pursue aviation and did so through sponsoring school trips that showed off the operations and facilities of a modern airport. Eventually, Clark and Sullivan sold their business in 1979, to be integrated into the Rifle Garfield County Airport of today, ensuring their legacy would survive and continue to contribute to Grand Valley aviation.
Aviation has become an invaluable contributor to the Grand Valley economy. Its build up was the result of a multitude of individuals who worked hard to develop the industry. Many more could be mentioned, but Charles Walsh, Eddie Drapela, and Betty Clark were some of the Grand Valley's influential aviators.