Cross Orchards Historic Site
At the Museums of Western Colorado's Cross Orchards Historic Site, you have the opportunity to step back in time. Stroll around the beautiful grounds and experience historic buildings, railroad cars and vintage equipment, and agricultural heritage. The large 1890s built barn/packing shed and bunkhouse are listed on the National Register of Historic Places.
With over 12 acres Cross Orchards offers many opportunities. Our facilities can also be rented for weddings, family reunions, corporate meetings, parties, and other events. The packing floor of the barn is 2,400 square feet alone and has additional space in the loading porch area. Modern restrooms and several set up rooms including a specially designed bridal suite are available.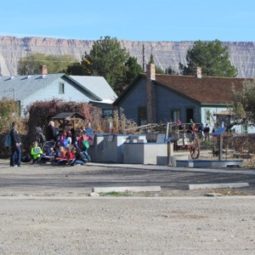 Cross Orchards Hours and Events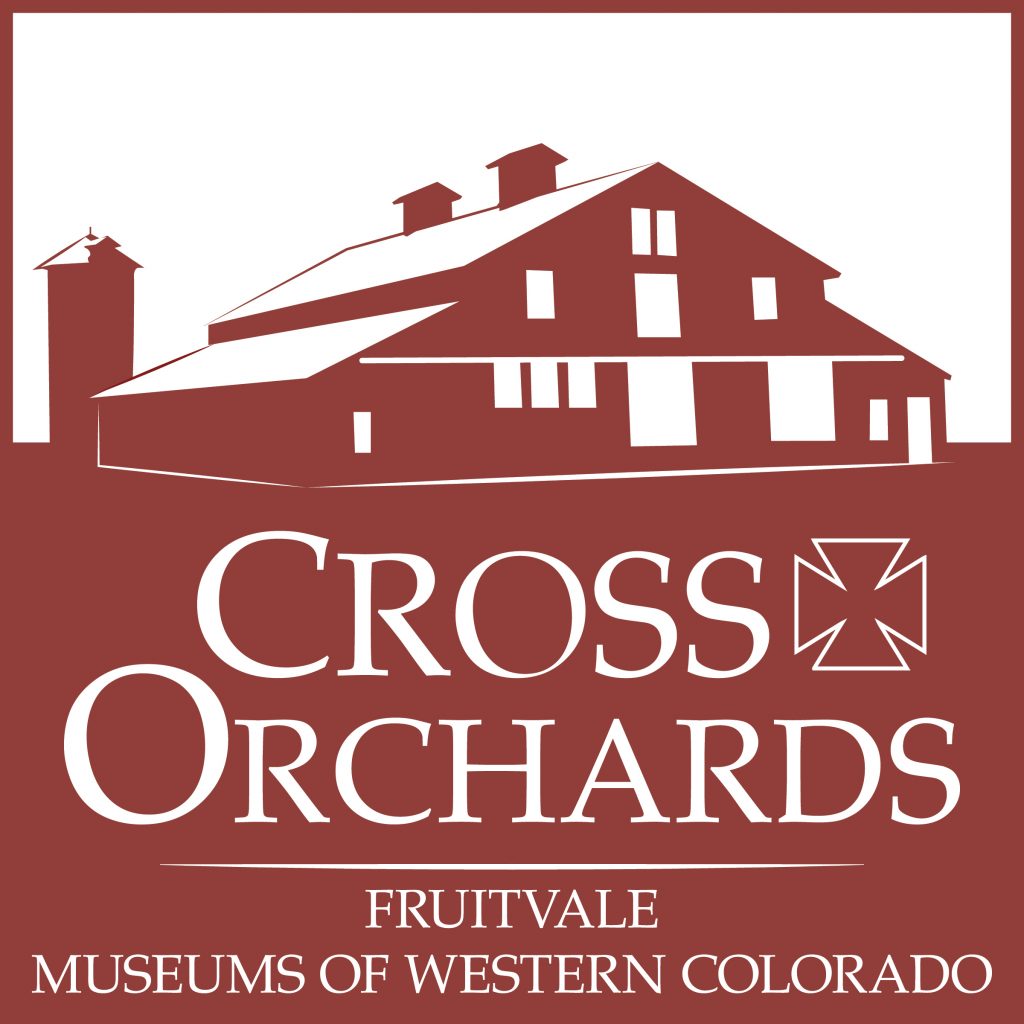 3073 F Road
Grand Junction, CO 81504
<!=========masonry View Template 2.9.6=========>
All
Cross Orchard
Dinosaur Digs
Dinosaur Journey
Farmers Market
History Alive Chautauqua
Museum After Dark
Museum of the West
Trips & Tours
Walking Tours
History of Cross Orchards Historic Site
Today's 16 acre site, once part of a 243 acre fruit ranch, was operated as an agricultural showcase by the Massachusetts-based Red Cross Land and Fruit Company from1909-1923. With more than 22,000 trees, it was one of the largest in the state when most local orchards averaged nine acres. Most of the fruit ranch was planted in apples, but a few acres of pears and peaches were also grown. Primary apple varieties of the day included Black Twig, Gano, Jonathan, Winesap, Rome Beauty, and Ben Davis.
During peak periods of pruning, picking and packing, the Red Cross Land and Fruit Company often employed more than 50 part-time workers. Most were local citizens who commuted from town or would set up camp for several weeks during the fall harvest. Included in the restored bunkhouse are the kitchen, pantry and cook's quarters on the west end; the men's quarters and dining room in the middle; and the carriage room and office on the east end. The large barn/packing shed and bunkhouse are listed on the National Register of Historic Places.
Since the Museum acquired the original 4.3 acres containing the historic structures in1980, the site has added many additional acres and several ancillary exhibits. The Swanson display contains household effects, farmyard equipment, and an amazing assortment of horse-drawn implements and tools. It encompasses the Swanson Family's move from Sweden in 1885 to operation of their 40 acre farm south of Loma.
Rail fans will delight in the Uintah Railway exhibit and the recreated train depot. The reconstructed Whiskey Creek Trestle is part of a display of cars, an engine and caboose. From 1904-1939, the Uintah ran from Mack, Colorado to Dragon, Utah. It hauled one of the world's few commercial sources of gilsonite, a black, lustrous asphalt. Members of the Grand Valley Model Railroaders have displays of HO scale trains representing historic rail lines that ran through Western Colorado. Related Link: National Railroad Historical Society, Rio Grande Chapter.
The Wallace "Boots" Corn Collection of vintage road building and related equipment is also housed at Cross Orchards. With more than 60 pieces, this diverse collection includes horse-drawn scrapers, graders and wagons in addition to steam, gasoline, and diesel-powered equipment. "Boots" established the Corn Construction Company following World War II.
Uintah Caboose Restoration
Yes – restoration on the caboose has been completed! Caboose #3 of the Uintah Railway was obtained in very poor condition. It had been used for farm storage for many years and was sitting on bare ground with one side against a dirt embankment. There was such extensive rotting on the under body, floor and one side that it had to have interior and exterior bracing just to be moved to its current location – Cross Orchards Historic Site, 3073 F Road.
In the summer of 1996 members of the Rio Grande Chapter of the National Railway Historical Society decided to attempt a full restoration. The car was disassembled and a new car was made, re-using original parts and materials as much as possible. The new under body frame beams were salvaged from an old standard gauge flatcar and were ripped to size by Skilsaw. The frame beams and end sills were attached with mortise and tenon joints and secured in place with steel tension rods salvaged from the original car.
Most of the car's vertical frame members (studs) were in good condition except for the rotted bottoms that were repaired by splicing in new wood sections. Long angle braces with rot on one end were trimmed to replace the shorter rotted pieces. New wood was used to replace the long pieces.
The car now has all siding windows, roofing doors and exterior hardware installed. This includes steps, end rails, ladders and couplers. The Chapter has also placed it on a short section of track with a stairway and platform for visitor access.
As part of the final touches, the group designed a "typical caboose interior' based on the D&RGW long cabooses since there were no known interior pictures or details of the original car. Both cupola "platforms" with seats, the conductor's desk and bench seats with seat cushions have also been added.
Weddings at Cross Orchards
Preparing for your big day? Take a look at the spaces Cross Orchards Historic Site has to offer as a wedding venue.
Contact our rental facilities coordinator for more details at 970.242.0971, ext. 206.