What We Offer
Cross Orchards Historic Site: Students experience history at a historic orchard. Docent led tours can provide additional information on and experiences in historic crafts and lifeways.
Museum of the West: Provides students with an overview of Western Slope prehistory and history.
Scavenger hunts available for older students
Self-guided tours of Historic Downtown available
Dinosaur Journey Museum: Teaches students about geology and paleontology, with special focus on the Western Slope.
Two video presentations available

Dinosaurs the Roamed America (20 minutes) recommended for younger students
Dinosaurs of the Western Slope (30 minutes) recommended for older students

Nearby Dinosaur Hill provides a one-mile hiking trail that goes past the location of the Museum's Apatosaurus collected in 1901.
Colorado National Monument located three miles up the road
Nearby access to James Robb State Park (fee required)
Education Kits: Are available for checkout and come with curriculum and teacher training materials. All lessons within the kits are designed to meet the most up to date state academic standards.
The Original Coloradans provides students with an understanding of the peoples that inhabited the Western Slope before the arrival of the Utes. Students learn about the environments and lifeways of early inhabitants and how these changed over time. Many of the materials contained within the kit are genuine artifacts donated by the cultural resources department of the Grand Junction BLM field office. Grade Level: 3rd-4th grade
Clues from the Landscape allows students to study historical photographs, maps of western Colorado, and artifacts in order to assess the challenges of homesteading. In addition, students can participate in a virtual hiking experience through Dominguez Canyon where they will become familiar with ways to access public lands, focusing on respect and stewardship. Grade Level: 3rd
Mountain Men aims to help students understand the lives of mountain men, including their daily lives, the hardships they faced, the role their wives played in trapping, and the importance of beaver during the 19th century. Students will also be asked to distinguish between mountain man myth and real historical facts. Also contained within the kit are items for students to handle that would have been important to a mountain man's survival. Grade level: 4th
Paleontology focuses on the natural history of the Grand Valley and western Colorado over the last 225 million years and beyond. Students interact with casts, 3D models, and real fossils in engaging, Next Generation Science Standards-based activities that cover topics such as geologic time, relative dating and stratigraphy, evolution, biodiversity, and mass extinctions. Grade level: Middle School
Educational Websites: Find content  ranging from paleontology to uranium mining and a bit of everything in between!
| | |
| --- | --- |
| | |
| Developed for grades 8-12 | Developed for grades 2-7 |
Schedule a School Tour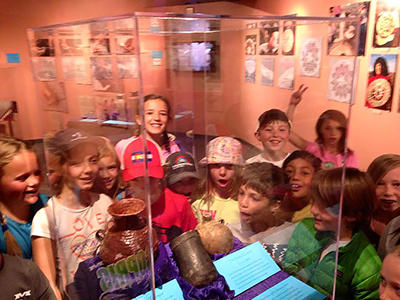 We welcome all school-age learners. We invite you to request either a guided visit led by trained Museum educators and volunteers or a self-guided visit, which allows you to lead your own students through the Museum. Please note that reservations are required for all school groups visiting the Museum.
Tours are available on a first-come, first-served basis by appointment only. Guided-visit reservations can be made no less than three weeks in advance of the requested visit date, and self-guided-visit reservations can be made no less than two weeks in advance.
We are open to school groups year round at all three sites! Please note the days and times available below:
May through September

Monday-Friday

9 am-4 pm

October through April

Monday-Friday

10 am-3 pm

May through September

Tuesday-Friday

9 am-4 pm

October through April

Tuesday-Friday

10 am-3 pm

May through October

Tuesday-Friday

9 am-3 pm

November through April

Monday through Friday

10 am-3 pm
Group Prices
For all sites, payments must be made online prior to your visit.
$3.50 per student for non-guided tours
$4.00 per student for guided tours
We require one chaperone for every ten students. We include one free adult admission per every ten students (K-12). Additional chaperones are charged the group admission rate. Above grade 12, we include one free instructor admission. Groups must be accompanied by teachers and chaperones throughout the museum for the safety of the students and the museum collections.
---
Before your field trip, check out this video produced by KQED, about museum rules and why they exist, which will help prepare anyone for a museum visit. More Museum policies below.