Written By: Christine Westermire
At the corner of 2nd Street and White Avenue stands a building that is not only an integral part of Black history in the Grand Valley, but also a part of my life. If you are from the Grand Junction area, you most likely have heard of Handy Chapel, either through news outlets or word of mouth. For me, Handy Chapel has been much more than just a historic building, it is a place that my family has attended since the late 1890s and where I spent the majority of my childhood. Growing up in the church was filled with memories of my grandfather, Harry Butler, standing up at the podium preaching to the congregation and my grandmother running sabbath school in the back room. I remember the stained glass windows with a rose, the large wooden cross on the back wall, and the hymnals stored behind the pews. As a child I did not understand the history behind the church, what work was put into building it, or how important it has been to the local community as a whole. As I grew up, I realized that Handy Chapel is not just an old church, but a historic landmark symbolizing the importance of community.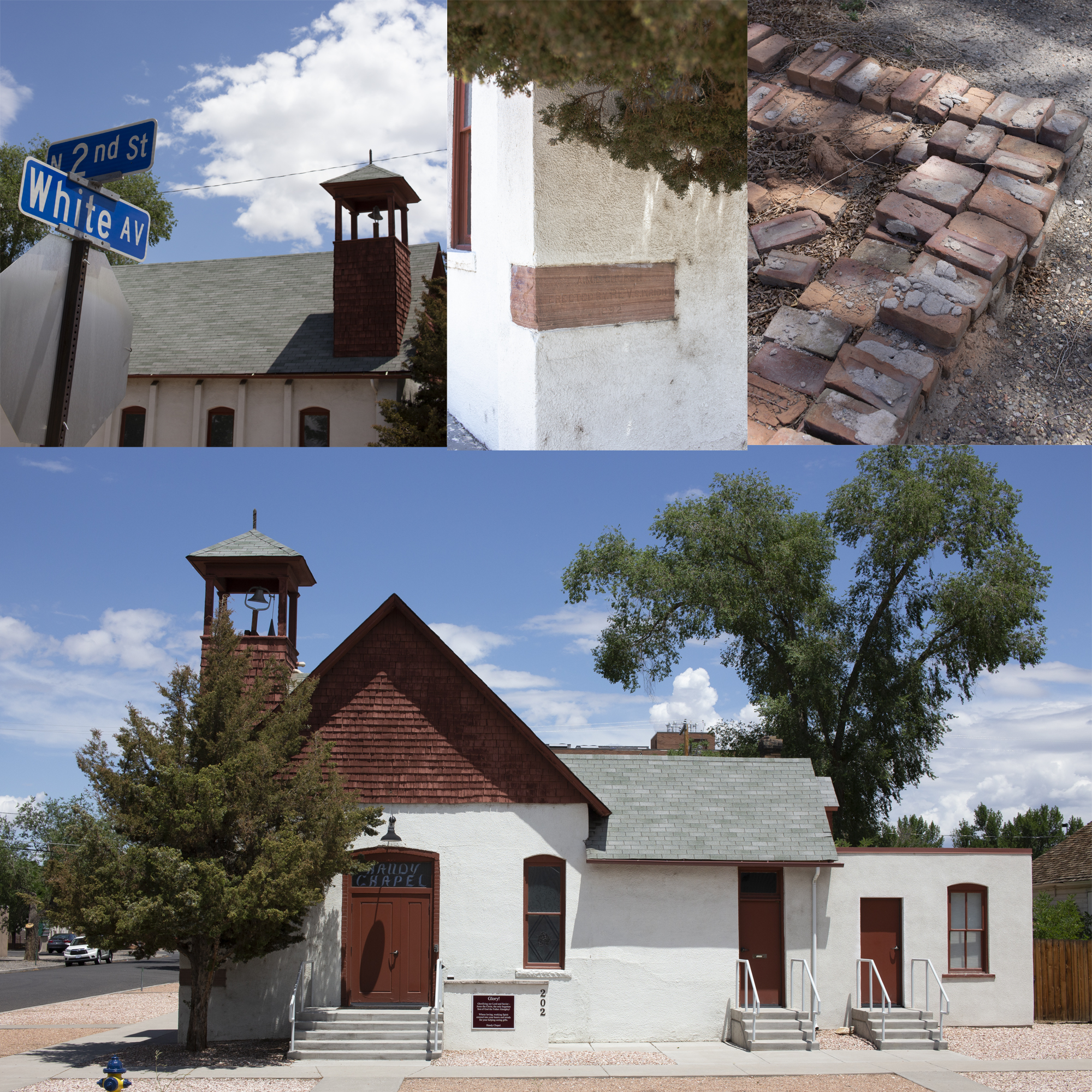 Handy Chapel has been the center of Black history in the Grand Valley since 1883, when the property was deeded to the Black community for $1.[1] At the time, Black citizens were attending the First Methodist Church but wanted to have their own place to not only worship but come together as a community.[2] Unfortunately, building the church was not a quick process. In fact, it took the Black community nine years to raise the funds to build Handy Chapel. The cost of the building was a total of $962.50, a significant amount of money during the 1800s but was worth every cent.[3] Once it was completed in 1892, it not only gave Black citizens a place to worship, but also served as a safe place for people in need to go. In addition, when the Chapel House was built around the 1920s it provided travelers, families, and anyone in need, no matter their race, a safe place for them to stay.[4] My family began attending the church after my great-great-great uncles Clark, John, and Samuel Hines arrived in the Grand Valley in 1888. In 1891, land for a fruit orchard was purchased by Samuel and John Hines, eventually becoming a very popular orchard amongst the locals.[5] The fruit orchard was sold by Samuel and John Hines to their father, my great-great-great grandfather Elijah, after his wife and him moved to the Grand Junction area to be with his sons in 1901.[6] Elijah maintained the orchard's reputation as a well-respected place to buy fruit. In fact, when he passed away, he was remembered as a respected and loved fruit grower, a huge feat for blacks during those days. Like the fruit orchard, the historic black church was cherished by my family. The funerals of Elijah, Nicey, Samuel, Clark, John, and Marcus (another great-great-great uncle) were held at Handy Chapel as they were members of the church congregation until they passed away.[7]
The tradition of attending Handy Chapel continued with my great-great grandmother, Iona Taylor. As a church trustee Iona would attend church services every week, taking my grandfather, Harry Butler, along with her  when he was a child. Eventually, when my grandfather was older, he followed in the footsteps of his grandmother and became a church trustee. In addition to his position on the committee, my grandfather wanted to run his own church services and in 1981 he became the pastor of Saturday services until his death in 2013.[8] I grew up amongst a diverse group of wonderful people who stopped by the church looking for support in getting back on their feet. While he was alive, my grandfather wanted to help as many people as he could, no matter their situation. He would find a way to help someone who needed a bus ticket back home, food for their hungry bellies, or clothes. Because of the willingness of my grandfather to assist those who needed it, word continued to spread about Handy Chapel being a place to go for assistance. We even had the well-known Grand Junction Celebrity, "Speedo Man" stop by church potlucks, not for assistance, but to visit with my grandfather. Handy Chapel's reputation of being a place where people can go to get help continues until present day. In fact, because of church members like my grandfather, who helped many over the years, the community was willing to help with raising money to restore the church after it was put on the endangered list in 2011.
Restoring the historic building was important to my family, as many treasured memories had been running through the walls of the church since the late 1800s. For as long as I can remember, there have been cracks in the walls of the old building, but I was unaware of the extent of disrepair the church was in. It was not until years later when I found out that my family and members of the church were trying to find a way to raise the funds to repair it, did I realize how close my childhood church was to being torn down. I was very young when Handy Chapel was finally placed on the National Register for Historic Places in 1994.[9] To this day I remember how thrilled my family was that the chapel was finally listed. For my entire childhood, there were cracks in the walls of the church, the bathrooms looked outdated, and the back room or parsonage was closed off. Even though the foundation was cracking, I loved looking around the church after services, especially the back room. The parsonage was attached to the sabbath school classroom by an old door and contained a kitchen that still stored items from the past. As a kid I loved exploring this room because it was where my grandparents stayed for a while when they were first married and I was fascinated by the household supplies still present throughout the parsonage. I did not find out until later that my grandparents, like past tenants, cleaned Handy Chapel in exchange for rent.[10] Exploring the Chapel House was my ultimate goal as a child because it was another place where possible antiques from the past were stored and where my Grandparents, my mom, and uncle established a loving home. Unfortunately, with the house being boarded up and falling apart, exploring the Chapel House was too dangerous. Today the chapel is no longer in disrepair, with the help of grants from the state, the National Trust for Historic Preservation, and donated funds from the El Pomar Foundation, Handy Chapel was fully restored in 2013.[11] Unfortunately, the Chapel House has still not been restored because of lack of funding. The restoration of the church was a project that my grandfather championed, and it was fitting that he was able to see the completion of this work before he passed away.
My grandfather was ecstatic for the church to be restored, it not only held memories of his childhood but he also baptized my brothers and I in the church after we were born. I have memories of my cousins and I in sabbath school playing Bible games, coloring, and reading Bible stories with my grandmother, Danielle Butler. I was a rambunctious child and while the adults were visiting after church, my cousins and I would run around outside racing each other and playing hide and seek. I would always end up with a hole in my stockings after running my heart out trying to win first place against my cousins. We would have so much fun playing, not realizing we were playing at the only church in Grand Junction still standing on its original property. Today, when I see Handy Chapel, I think about all the history that surrounds the church and treasure the memories of my grandfather, Harry Butler standing at the podium. Handy chapel continues to be an important piece of the community as a safe haven and place of worship. The building and its legacy will carry on as an important fixture in the history of the Grand Valley.
[1] https://coloradoencyclopedia.org/article/handy-chapel
[2] https://coloradoencyclopedia.org/article/handy-chapel
[3] https://coloradoencyclopedia.org/article/handy-chapel
[4] http://coloradopreservation.org/programs/endangered-places/handy-chapel/
[5] http://www.historic7thstreet.org/remembering/pdfs2/butlerfam1.pdf , Early GJ settler, born a slave, was noted orchardist, Kathy Jordan
[6] Jordan, K. Early GJ settler, born a slave, was noted orchardist http://www.historic7thstreet.org/remembering/pdfs2/butlerfam1.pdf.
[7] Jordan, K.  Early GJ settler, born a slave, was noted orchardist http://www.historic7thstreet.org/remembering/pdfs2/butlerfam1.pdf.
[8] Jordan, K. Hines family goes back eight generations in Grand Junction http://www.historic7thstreet.org/remembering/pdfs2/butlerfam3.pdf.
[9] The Daily Sentinel, 3/19/2008
[10] Jordan, K. Separate hotel rooms, racial stereotypes faint mid­century GJ past, http://www.historic7thstreet.org/remembering/pdfs2/butlerfam2.pdf.
[11] https://www.elpomar.org/blog/detail/handy-chapel-gets-a-hand-up/2024/